StickQuik Bands™ 24 Combo Pack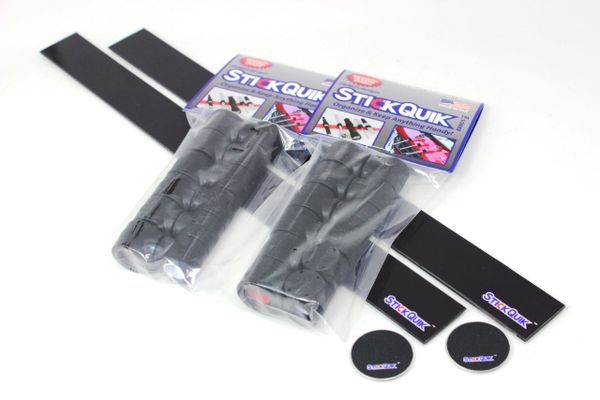 StickQuik Bands™ 24 Combo Pack
28 piece combo Pack

This Pack
contains
24
StickQuik™ Bands,
2
Disks and
2
Strips.
Bands
Come in two sizes : 3/8" (9.525mm) and 1/2" (12.7mm) - 12 bands of each size.
Bands come in color choice of Black or Clear.
They are stretchable up to 2 times the size.

StickQuik™ Bands are a Patent-Pending, next generation accessory that offer the user handy access, organization and storage for tools, utensils or implements of any kind. Our bands are made of elastic silicone that can be stretched to snugly fit any ferrous or non-ferrous tool or tool handle.
Disks
The StickQuik Disk
™
is a 1" (2.54cm) diameter disk made of ferrous metal with an adhesive tape so your band can stick to a non-metallic surface. Available in many different colors and Graphics.
Strips

The StickQuik™ Strip is a 1" x 12" (2.54cm x 30.48cm) ferrous metal strip so your bands can stick to non-metallic surfaces for organization and display. The Strips come in three mounting styles: Pegged, Adhesive Back and Screw Hole. Available in many different colors and Graphics. Note: Screws and hardware are not included with the screw hole mounting style strips